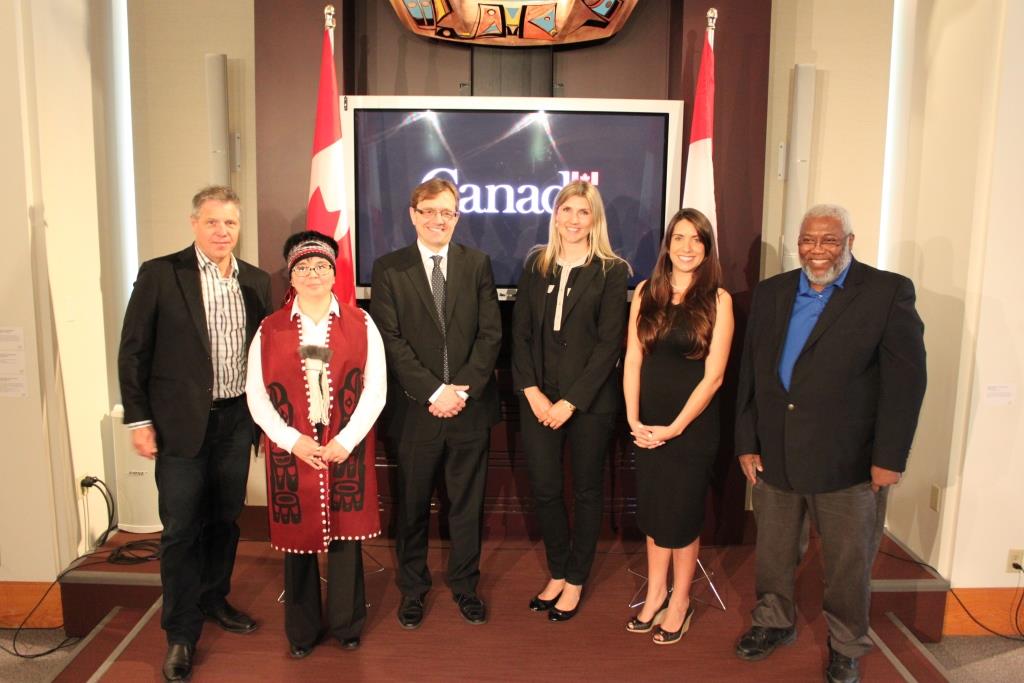 BC SafetyLink Celebrates One Year in Business
Image, from left: Jako Krushnisky, Gitxsan Development Corporation; Tiffany Bell, PGABDA; Parliamentary Secretary Wilkinson; Katie Christopher, Gitxsan Development Corporation; Denise Williams, FNTC; and William Phang, PGNAETA.
Hazelton, BC – April 27, 2016 | The Gitxsan Development Corporation is pleased to report on several milestones and key initiatives underway with it's monitoring centre, BC SafetyLink.
BC SafetyLink opened its doors one year ago and is now supporting workforces across Canada,the US and Mexico, providing protection for organizations as well as various levels of government throughout British Columbia. As BC SafetyLink's support expands, they are receiving recognition through multiple levels of government.
Jonathan Wilkinson, Parliamentary Secretary to the Minister of Environment and Climate Change and member of Parliament for North Vancouver on behalf of the Honourable Navdeep Bains, Minister of Innovation, Science, and Economic Development and Minister responsible for Western Economic Diversification (WED) Canada, recently acknowledged the advancements of BC SafetyLink alongside a few other First Nations' initiatives at an event in Vancouver, BC.
Western Economic Diversification Canada has been a key supporter of the BC SafetyLink initiative and has provided funding and support to get the center operational. Regarding WD's support for First Nations' initiatives, Wilkinson stated "The Government of Canada is very pleased to support these initiatives which are aimed at ensuring that Indigenous peoples gain enhanced access to technological resources and skills training – including business, and economics training. It is vital for Canada that we address barriers to employment and thereby enable enhanced opportunity and economic growth for First Nation communities. Such actions are critical to creating a more inclusive, more dynamic economy."
Rick Connors, President and CEO of the Gitxsan Development Corporation stated, "We are excited to have introduced this technology to the BC marketplace, which has been successfully used by both private industry and the Government of Alberta, to create a 'SafetyNet' for all workers throughout BC. BC SafetyLink has the ability to turn every exposed worker into a potential resource in an emergency situation."
About Gitxsan Development Corporation
The Gitxsan Development Corporation was founded in 2011 to position the Gitxsan Nation to participate in economic development activities occurring on their traditional lands, and to provide training and employment opportunities for the Gitxsan people.
About BC SafetyLink
BC SafetyLink offers 24/7 live safety monitoring for lone workers, teams in isolation and company assets to provide a safety net for employees and protection for organizations. We provide solutions for work alone monitoring, journey management, emergency response and asset risk management. From the devices in the hands of workers to the live agents responding to alerts, BC SafetyLink offers the full service to meet the unique requirements for each client.